SUPPORT THE MUSLIM COMMUNITIES!
Date 16 June 2021
Worry Free Community would like to share a special event for you to participate in and promote Muslim-focus health outcomes research. Specifically, we welcome your support for, and invite you to participate in, our virtual town halls, "Health Equity Town Halls."
EMPART Background

Muslim communities remain on the margins of community health interventions due to deficiencies in knowledge, tools and networks necessary for mosque community leaders to effectively launch, and partner in, health research programs and initiatives. The EMPART Project is a community health research project that aims to engage stakeholders to reduce life expectancy gaps in mosques communities by strengthening their community-based patient-centered projects through the Mosque Patient-Centered Outcomes Research (PCOR) Toolkit.
Town Hall Origins

A cohort of trained community health and social workers, mosque communities and patient representatives have been actively participating in an 12 month research to incorporate the mosque PCOR Toolkit to mosque communities and to set the agenda for Muslim-focused patient-centered outcomes research (PCOR). The toolkit will create a platform for stakeholders to discuss Muslim community health problems, dynamics and solutions using patient-centered methods in a faith-based community setting.
Health Equity Town Hall Series Dates:
Muslim Association of Bolingbrook
July 15th: 11am-1pm

Muslim Society Inc.:
July 24th: 2pm-4pm

Al-Nahda Center:
August 8th: 2pm-4pm

August th: 2pm-4pm (In-Person)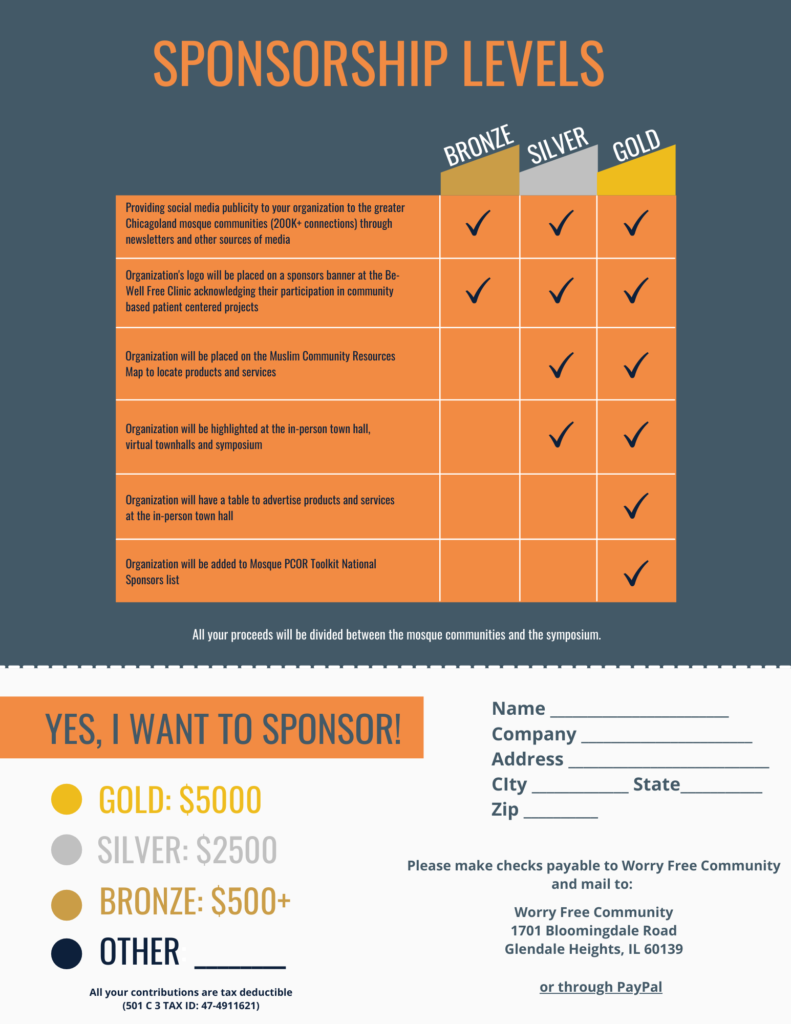 VACCINE EVENT IN WORTH, IL
by Asna Khan Date 29 April 2021
REGISTER TO SIGN UP FOR VACCINES!
REGISTER HERE: https://form.jotform.com/211176544803150
Vaccine-Clinic-at-Al-Nahda

Ask A Doc!
by Asna Khan Date 10 March 2021
Join our weekly multi-lingual live sessions every Saturday from 4-5 pm! Ask COVID-19 questions to our health experts via live on Zoom and Youtube.
Register Here!
Scan the QR Code with your phone camera!
Join our Youtube Livestream: https://www.youtube.com/channel/UCR0E34mt1CYm5N8SstoYWfA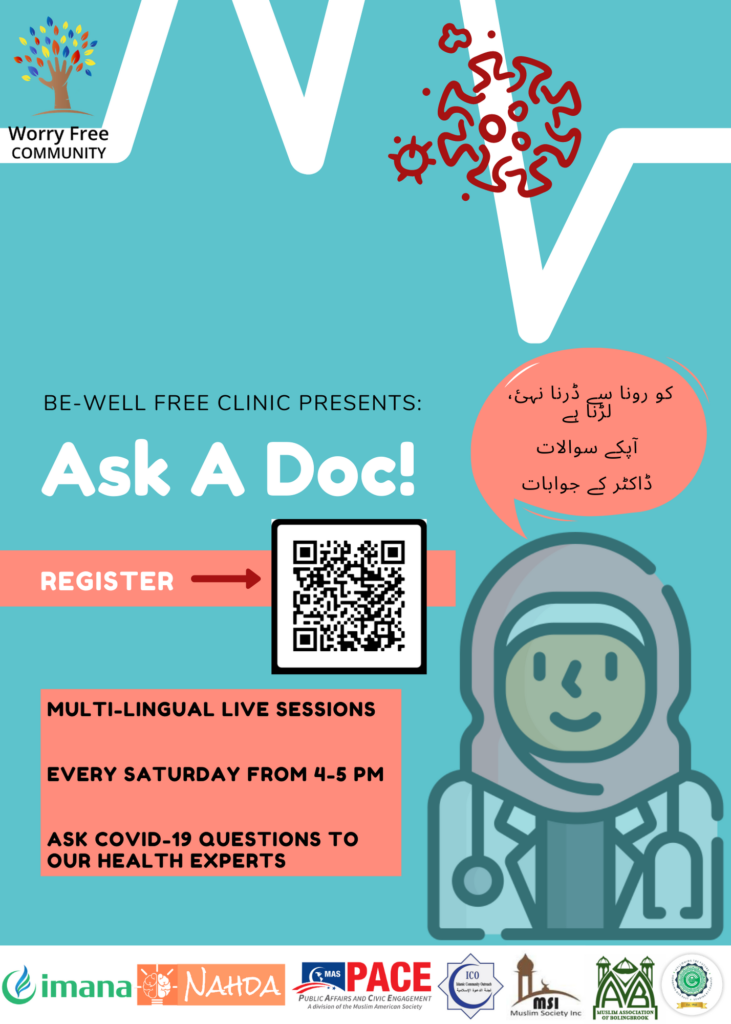 Subject Matter Experts: Introductory Meeting
by Asna Khan Date 6 April 2021
Recording of the meeting
Information Session: The All of Us Research Program
by Asna Khan Date 29 March 2021
Learn how you can be included in shaping the future of health care for you, your family, your community, and generations to come by joining us for an All of Us Research Program education session.
To join the event: https://wayne-edu.zoom.us/j/6239041242?#success
International-Islamic-Academy-Event

Honesty and Trust: Community Stakeholder Meeting #5
by Asna Khan Date 24 March 2021
Equipping Muslims with PCOR-Based, Action-Oriented Research Tools
Fighting COVID-19 Together
Honesty & Trust
Monthly meeting was held virtually on March 21st, 2021
The objective of these monthly meetings is to cultivate relationships among the diverse stakeholders from the mosque communities by exploring the patient-centered outcomes research (PCOR) engagement principles while highlighting the work of specific community-based organizations that demonstrate these principles in their everyday work. Click here for a complete meeting recording…
Nasser Aziz, discussed "Trust Building through Honesty". He views honesty and trust as integral parts of that same platform where honesty cannot exist on its own and Trust can not be developed if honesty is missing. He explores a seven-step process during his hour-long presentation and leaves us with a mathematical equation that can help anyone trigger the response cycle of honesty and trust and empowers people to become the "agents of change." Trust and Excellence go hand in hand. High level of trust and a high level of excellence leads to effective teams and project implementation while a low level of trust and a low level of excellence ends in disaster. The sphere of influence (I) in addition to factors that are uncontrollable (U) leads to the sphere of concern. There are seven key factors that develop the power of trust around the spere of influence. These are intention & attention, honesty & integrity, empowerment, looking for the good in others, Power of developing people, gracious manners, and Power of Dua (prayer). The training provided an example of how to implement these values such as in helping victims shift their grips to goals through a four-step master process. This includes listening to seek to understand, defining the goal, brainstorming an action plan to achieve the goals, and establish commitment. These best practices of developing honesty and trust will penetrate the entire sphere of influence of the individual and serves as the foundations of developing relationships for any kind of collaboration for community health research projects. For the full mathematical equation and the action plan to implement in your lives, download the entire presentation here.
Dr. Mushira khan discussed the importance of honesty in research projects. As a researcher who prefers qualitative inquiry and social narratives by patients, she highlighted specific studies that shook the trust in research but also presented examples as to how the scientific community took steps to rectify the situation. Nonetheless, it is important for the researchers to be very honest and it's the job of nonprofits to be vigilant as they facilitate community access to research projects. The Study "A Qualitative Inquiry into Diverse Stakeholder Perspectives on Healthy Aging across Chicagoland", was completed on the barriers to access and the underlying feeling of distrust among three major ethnic groups. All three groups had various barriers. In the African American community, neighborhood factors, exposure to violence, and historical factors impact their perspectives. South Asians experience acculturative stress to conform after immigration and other visible stigmas impact their community engagement. The Latino community tends to experience fragmented life situations due to their immigration status. However, MISTRUST was a common barrier to all three groups.In summary, fundamental societal elements such as systemic racism, stigmatization, limited health literacy, and certain cultural beliefs all play a role in increasing the sense of mistrust amongst community members. To rebuild trust certain elements are needed including thinking critically of the different challenges community members face, developing tailored and targeted messages, and providing the proper education. Download the presentation here.
The project's purpose is to build Patient-Centered Research Capacity in mosque communities by introducing the community to PCOR methods and tools. The aim is to build the culture and framework to implement patient-centered outcomes research to help patients and their caregivers make informed decisions. This will include the basic steps of planning, conducting, disseminating findings, and proper implementation of best practices through engagement principles. The EMPART project has introduced the mosque-PCOR toolkit to the mosque community at large will be looking to disseminate the toolkit to the mosque leaders in the region. This will include the involvement of community health workers, providing research materials to mosque board members, subject matter experts, public officials, and the project team that will bring in the money for the community's health needs. Key subject matter experts on the advisory board include Dr. Kamal Edleirawi, a community health researcher, Hira Mirza, Imran Khan an Information technology specialist, and Dr. Mushira Khan, a research methodologist.
Nasser Aziz: Honesty & Trust; Workshop by Building Beautiful minds Presentation
Dr. Mushira: Building Trust in Healthcare and Research Presentation
Monthly Stakeholder Meeting Presentation
Honesty & Trust: Community Health Stakeholder Meeting Press Release
by Fatema Mirza Date 20 March 2021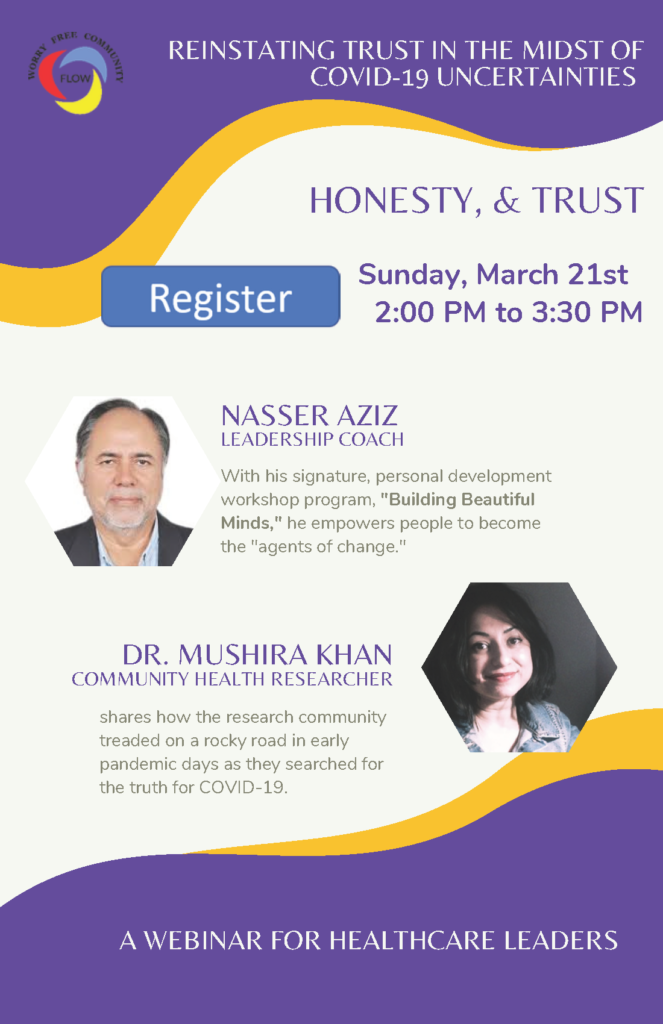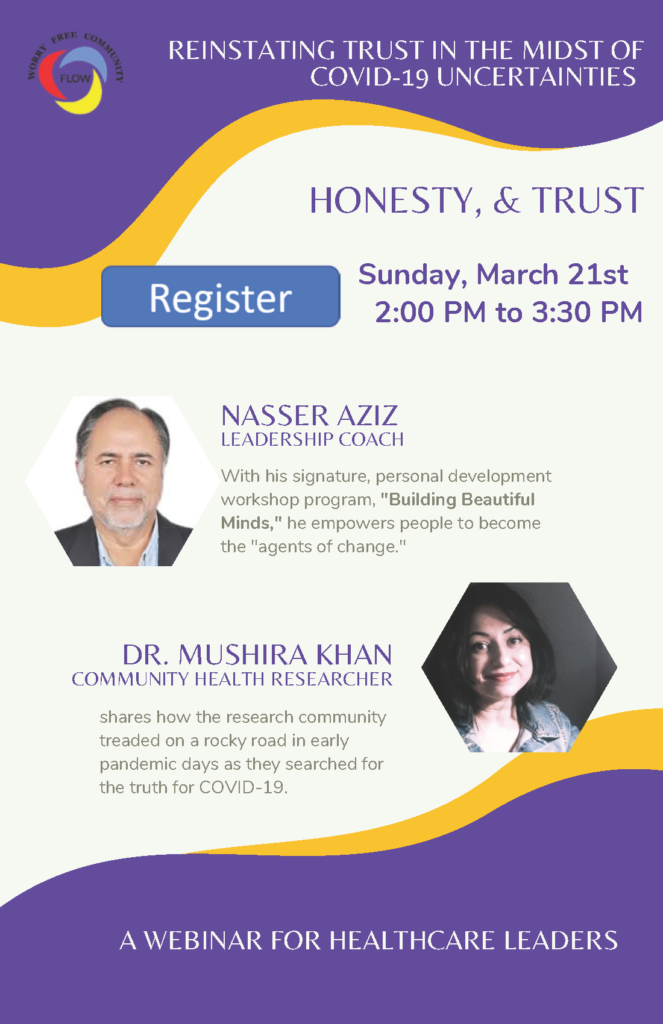 Community Health Stakeholder Meeting
Honesty, & Trust
Reinstating trust in the midst of COVID-19 uncertainties by using PCORI Engagement Principles
Rental Assistance Program from Cook County
by Asna Khan Date 17 March 2021
Applications Open: Emergency Rental Assistance Program
Applications are now open for the Cook County Emergency Rental Assistance program. It pays up to 12 months of missed rent and utilities payments and up to 3 months of future rent payments. Payments will be made directly to your landlord and utility company.
Applications open March 11, 2021 and will be accepted until April 2, 2021
Who is eligible?
To be eligible, applicants must:
Live in suburban Cook County and rent their home (Landlords may apply on behalf of eligible tenants)
Lack access to other support (e.g., don't live in public housing or receive rental assistance from other programs during the same time period)
Have proof of financial hardship due to the COVID-19 pandemic
Have a household annual income at or below these requirements:
Household Size
1
2
3
4
5
6
7
8
Income
$51,000
$58,250
$65,550
$72,800
$78,650
$84,450
$90,300
$96,100
What counts as a COVID-19 related financial hardship?
Financial hardships related to COVID-19 include:
Losing your income
Working fewer hours
Being furloughed
Quitting your job because you are at high risk for COVID-19 and need to self-isolate
Losing work to stay home to care for a child
If you need assistance completing the online application or with language services, please contact the Cook County Emergency Rental Assistance Program helpline at 877-426-6515.  You will receive assistance and be referred to one of our partner agencies below if needed.
Muslim American Healthcare & Spiritual Needs (MAHSN) Survey
by Asna Khan Date 17 March 2021
Seeking to understand the healthcare needs of muslim patients with regard to hospital accommodations.
INITIATIVE ON ISLAM AND MEDICINE
As-Salaamu Alaykum,
Thank you for taking this survey. We greatly appreciate your investing time in helping us learn about the experiences of Muslims interacting with the American healthcare system.
The survey consists of three parts: spiritual needs, experiences of discrimination, and sociodemographic questions and will take approximately 10-15 minutes to complete.
Your responses during the entire study will be kept confidential. Your participation is completely voluntary, and you are free to skip any questions. However, to ensure the validity of our findings, please try to answer all of the questions.
If you have any questions about the survey or this study, please approach someone from the research team at: Mohamed Hamouda ([email protected])
Volunteer at a Vaccine Site!
by Asna Khan Date 16 March 2021
CIOGC is working with local departments of public health to offer the Covid-19 vaccine potentially at various Masjid locations. We are recruiting medical and non-medical volunteers to assist with this effort. If you are interested in volunteering please fill out this form. Once our vaccination site is confirmed we will send out an online form to register for volunteer shifts.
If you would like to volunteer, please fill out this form:
https://docs.google.com/forms/d/e/1FAIpQLSeiSwkEjQuMCiheO4DhlO4Y6lzSkWMj1NQXUmoZ3mWD_A069g/viewform
COVID-19 and Pregnancy Study (CAPS) Survey
by Asna Khan Date 16 March 2021
Researchers from the University of Illinois (Dr. Kamal Eldeirawi, Dr. Laurie Quinn, and Dr. Victoria Persky) are requesting your participation in the Coronavirus/COVID-19 and Pregnancy Study (CAPS) to help understand how the Coronavirus pandemic is affecting women during pregnancy.

If you are 18 years of age or older and currently pregnant or have given birth on or after March 1st, 2020, you are being invited to participate in this research survey, which includes questions on your health, pregnancy experience, feelings, and other life changes related to Coronavirus/COVID-19.

This online survey takes 15-25 minutes to complete, and you will be entered into a drawing for a $20 gift card after submitting the completed survey! If you choose to participate, we would appreciate it if you can submit your completed survey within a week.